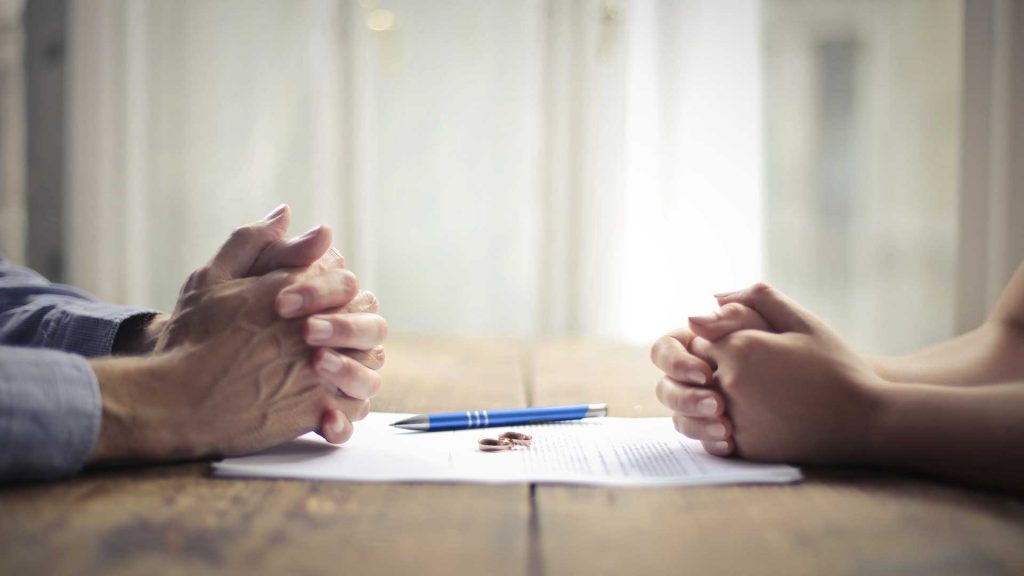 Woodstock, GA Divorce Attorney
Representing clients in both contested and uncontested divorces throughout Georgia
Ending your marriage can be rather overwhelming, but a Woodstock, GA divorce attorney can help.
Going through a divorce in Woodstock or elsewhere in Georgia is arguably one of the most stressful and frustrating times in every adult's life. The decision to end your marriage is never an easy one, especially if you and your soon-to-be-ex-spouse have children.
The Law Offices of Jeffrey S. Williams, LLC, represents clients in both contested and uncontested divorces throughout Georgia. Schedule a consultation to evaluate your situation and learn more about Georgia's family laws.
Our divorce lawyer in Cherokee County, GA, specializes in temporary and permanent spousal support, child support, child custody and visitation, order modifications, paternity cases, and many more.
How Much Does A Woodstock, GA Divorce Attorney Cost?
The cost of divorce can be quite high due to a variety of factors. Typically, the attorney's fees make up the vast majority of divorce costs. A study by Martindale-Nolo found that the average cost of divorce in Georgia is $14,700, of which $11,600 goes for attorneys' fees.
Attorneys' fees account for a large chunk of the Georgia divorce cost because the average hourly rate for family and divorce lawyers in Woodstock and elsewhere in GA is $280. The amount of your divorce lawyer's fees is based on:
Your attorney's hourly rate (or flat fee)
The rate of any paralegals and other law firm staff
The total time required to spend on your divorce case (i.e., the complexity of your case)
Other divorce costs in Georgia include court filings, expenses for expert witnesses and consultants (e.g., evaluators, appraisers, and financial analysts), the cost of copying and sharing documents, and many more. An experienced divorce lawyer can estimate the cost of your divorce in Georgia.
The same study found that total costs for a Georgia divorce range from $4,500 to as much as $32,000.
Do You Need an Attorney for A Georgia Divorce?
Although not all divorce cases in Georgia go to court, you may still end up googling "marriage lawyer near me" when things get too complicated to handle on your own. In most cases, couples are able to resolve their divorce disputes through negotiation or mediation.
If you opt for mediation, your lawyer will make sure that your best interests are represented. A huge mistake divorcing couples make is thinking that they can handle the divorce proceedings on their own while having no idea how Georgia's family law system works.
Any experienced family law attorney will encourage spouses to reach an agreement outside of court to avoid litigation as much as possible, especially if children are involved. However, sometimes, divorce negotiations lead nowhere. In that case, you need to find the best divorce lawyer in Cherokee County, GA, to ensure that your legal rights are protected throughout the court process.
Either way, a skilled divorce lawyer can help reach a divorce settlement outside of court and, if it comes to that, aggressively represent your case before a judge.
Who Pays Attorney's Fees in Divorce?
Generally, each spouse pays for their own attorney's fees. However, Georgia law provides protection to spouses who have no access to marital assets and/or cannot afford attorney's fees while their divorce case is pending.
Georgia law dictates that the grant of attorney's fees is within the sound discretion of the trial court after considering the financial circumstances of both parties. Attorneys' fees can be awarded either:
In full at the end of the divorce; or
On account (the spouse who was ordered to pay their spouse's attorney's fees must pay them as they become due).
Attorney's fees can be awarded at a temporary divorce hearing, a final hearing, or both if the parties' financial circumstances warrant the award. An award of attorney's fees in Georgia can be enforced by an action for contempt.
How to File for Divorce in Georgia
Most divorces in Georgia are no-fault divorces. To file for divorce in Georgia, a spouse can simply state that their marriage is "irretrievably broken," which simplifies the process of filing for divorce even if you do not have a divorce attorney.
Nonetheless, there are fault grounds for divorce in Georgia based on adultery, desertion, and mental incapacity, impotency, and others. In Georgia, the petitioner spouse must file divorce documents in the appropriate court.
The document is known as the "petition" and contains the spouses' living arrangements, whether they have children, marital property and debts, and reasons for ending the marriage.
After one spouse initiates the procedure, the other spouse will be served initial divorce papers. The respondent spouse has 30 days to submit a written response.
Why Choose Us
There are hundreds of divorce attorneys in Cherokee County, GA so why choose The Law Offices of Jeffrey S. Williams, LLC? Our attorney:
Has the relevant experience and skills to meet your needs;
Helps negotiate the best settlement on your behalf;
Knows the latest rules, laws, and best practices in Georgia divorce law;
Helps navigate the complex intricacies of family law;
Uses all legal resources available to make divorce cases more efficient for clients; and
Has what it takes to tackle complex legal issues.
Contact a Woodstock, GA divorce attorney for a consultation to discuss your particular situation. Call us at 770-645-0990 or complete this contact form.
Woodstock, GA Service Area
The Law Offices of Jeffrey S. Williams, LLC
Phone: (770) 645-0990
Office Hours: (We Answer Our Phones 24/7)
Monday 8AM–5PM
Tuesday 8AM–5PM
Wednesday 8AM–5PM
Thursday 8AM–5PM
Friday 8AM–5PM
Saturday Closed
Sunday Closed
Service Area:
Woodstock, GA and All of Cobb County, GA
Woodstock, GA Divorce Resources:
Georgia Child Support Guidelines